Today kicks off a Week of Action organized by Young West Virginia. They are hosting rallies across the state to help garner community action in support of the For the People Act, John Lewis Voting Rights Advancement Act, and D.C. Statehood. These pro-democracy reforms are our once in a generation opportunity to protect our freedom to vote, end partisan and racial gerrymandering, and get dark money out of politics. Join a rally near you. Events are happening in:
Join Young WV's week of action and play a part in fulfilling the promise of our democracy.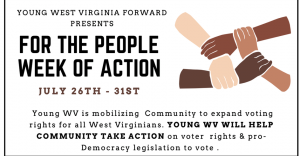 This week is also the start of a series of listening sessions hosted by the Legislature's Joint Committee on Redistricting, with public hearings in Winfield (Tuesday 7/27) and Logan (Thursday 7/29). All 12 in-person public hearings will take place from 6 to 8 PM, with doors opening at 5:30 PM to begin the sign-in process. Anyone who would like to be guaranteed an opportunity to speak during the hearings will need to be present to sign in by 6 PM.
See the full schedule and other redistricting information and resources compiled by our Fair Maps Committee here.
Let's take advantage of the upcoming hearings to let legislators know that when it comes to our districts, we want a transparent process we can trust, where communities remain whole and where voters have an equal voice.