On August 26, please grab your favorite drink and join Planned Parenthood Votes! South Atlantic for their Cocktails for a Cause: Celebration of Suffrage. Panelists include: South Carolina State Senator Margie Bright Matthews; Executive Director of the New North Carolina Project, Aimy Steele; and Effie Kallas, Co-President of the League of Women Voters of West Virginia. Register for FREE today.
Thursday, August 26, 2021
6:00 – 6:30 p.m. via Zoom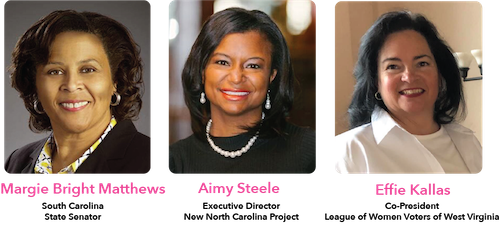 As we commemorate the 101st anniversary of suffrage for many American women, we also recognize the ongoing fight for voting rights. States across the country have introduced a surge of legislation that would make it harder to cast a ballot, particularly targeting people of color, people with low-income, and young people. Voter suppression directly impedes our ability to control our bodies and plan our futures. These political attacks are a tremendous threat to what we stand for.
Cocktails for a Cause will feature an exciting panel discussion on Planned Parenthood Votes! South Atlantic's role in getting out the vote in 2022, and standing against voter suppression. Register today!
Your support makes it possible for Planned Parenthood Votes! West Virginia PAC to expand and protect reproductive health and rights in West Virginia.